Pro-Vision Launches New 360° Visibility Solution
The mobile video technology solutions provider Pro-Vision releases the 360° Birdseye HD Vision System, a surround-view solution that enhances driver visibility utilizing the latest calibration technology.
Byron Center, Mich. – Mar. 25, 2023 – Pro-Vision, a leader in mobile video solutions, announced today they are enhancing their fleet video offering with the new 360° Birdseye HD Vision System. This is designed to improve operator visibility to reduce forward, side, and rear collisions by eliminating the blind spots that cause them.
While similar solutions exist on the market, the Pro-Vision solution differs with a simpler and more convenient calibration process that saves precious time during installation. With a single press of a button on the display screen, you can calibrate in tighter spaces indoors and outdoors. Additionally, this integrates with other Pro-Vision cameras, recording capabilities, and cloud software.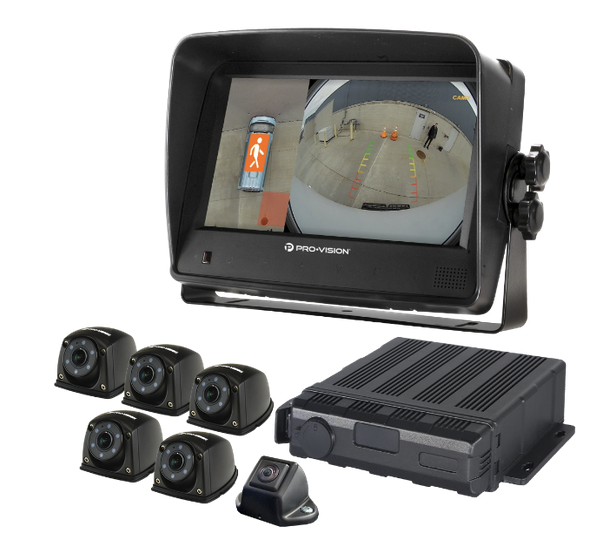 "We're excited to provide a more comprehensive solution for fleets and the truck and equipment manufacturers." said Martin Schena, VP of Sales of Pro-Vision. "With four and six configurations, we can increase driver visibility with the right option for every truck – regardless of chassis length."
In addition to making calibration and installation easier, the Pro-Vision 360° Birdseye HD Vision System also delivers custom vehicle overlays, automatic pedestrian and object detection, configurable on-screen parking markers, and recording capabilities.
About Pro-Vision
Founded in 2003, Pro-Vision is a leading video technology solutions provider trusted by thousands of organizations in 58 countries. Pro-Vision solutions include vehicle video recording systems, body-worn cameras, data management, and cloud-based storage solutions. Pro-Vision transit, public safety, and commercial partners utilize these solutions to enhance safety, increase productivity, and protect critical assets. For more information, visit provisionusa.com.
# # #
Contact:
Sam Lehnert
Pro-Vision
616-816-1407
[email protected]
provisionusa.com