Total Coverage For Your Vehicles
Give your drivers a bird's-eye, panoramic view of what is happening around your vehicles. Reduce blind sports with enhanced visibility, exonerate drivers with included video recording, and simplify installation with single-step calibration.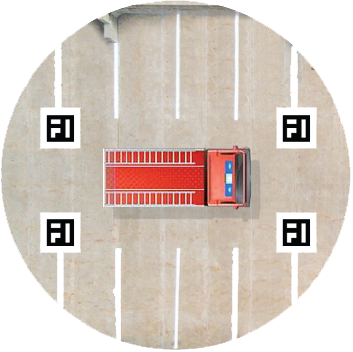 Simplified Single-Step Calibration
Simply lay out the calibration mats at each corner of the vehicle and choose the calibration button on the touchscreen display. Calibration requires less space around the vehicle than existing technology on the market and can be done indoors or out.
Four & Six Camera Options
Regardless of the length of your vehicles, there is a solution that can fit to ensure no blind spots are missed, and the best view is provided to enhance operator visibility.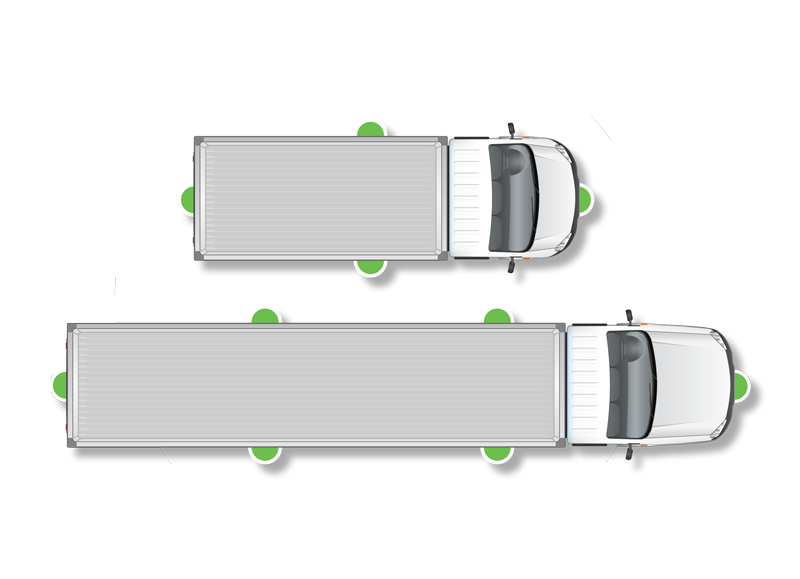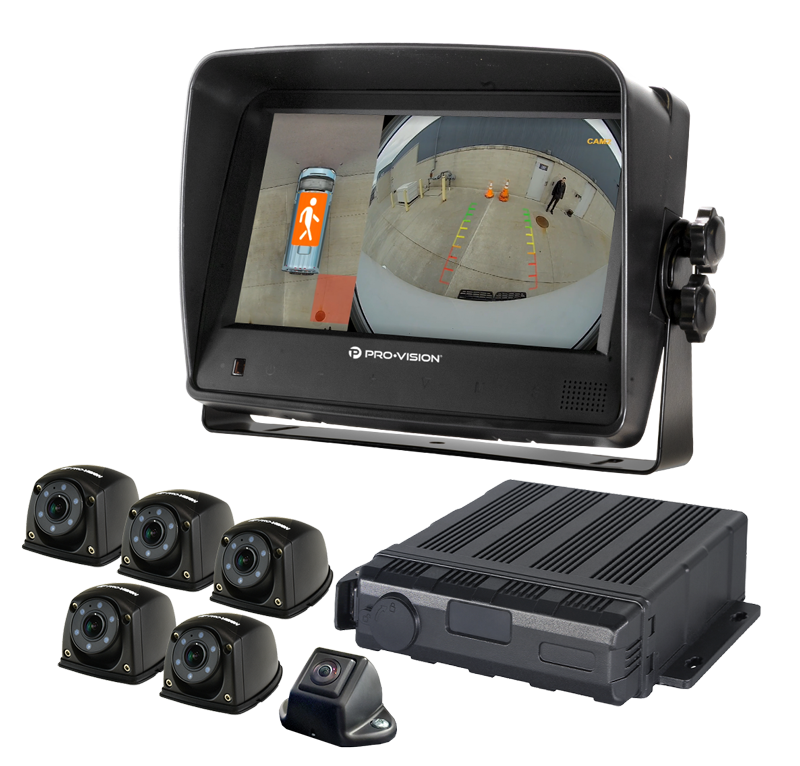 Convenient, Dependable Hands-Free Operation
While a vehicle operator can manually operate and adjust views to fit their needs, the system can automatically display the rear view when reverse gear is selected, and display left or right-side views when turn signals are activated.
Video Recording Helps Get the Whole Picture
1080p HD recordings of all cameras record to an SD card to provide video evidence to exonerate drivers and show what really happened in the event of an accident.
Automatic Pedestrian Detection
A warning displays on the LCD monitor when pedestrians are automatically detected by the system.
Custom Vehicle Overlays
Upload an image of your specific vehicles or choose from a variety of default options to appear in the Birdseye display on screen.
Unmatched Camera Coverage
Ensure no corner blind spots exist with cameras that have the widest field-of-vision.
Configurable On-Screen Parking Markers
Customize the on-screen parking lines to fit your vehicle to aid in reverse operation and gain a better perception of depth to operate quicker and safer.
Automatic Pedestrian Detection
A warning on screen displays when pedestrians are automatically detected by the system.
Multiple Display Configurations
Operators can choose the view that will help increase their visibility for each vehicle maneuver and have a default configuration auto-display to be hands-free when operating at speed.
Professional Installation
The Pro-Vision team is ready and equipped for your on-site installation.
Camera
Field-of-View
195° Horizontal, 120° Vertical
Monitor
Brackets
Fan and "U" Brackets Included
DVR / Control Box
Outputs
AHD Output (Monitor Screen Capture or Individual Camera Views)
Triggers
4 – Turn Signals, Reverse, and Two Custom
Contact sales to learn more or schedule a demo.