Simplify and Save Time Managing and Accessing Your Video Files
Discover the Convenience of Web-Based Access
Review Footage Anytime, Anywhere

It's no longer necessary to physically remove the DVR storage device, set up and manage servers, or even be at the same location as the vehicles.
CloudConnect is a turn-key solution that doesn't require servers or complicated IT infrastructure to store video, helping minimize your IT support investment.
CloudConnect eliminates the time-consuming tasks of manual file transfer, sharing via thumb drives, and manual system health audits with features such as automatic video transfer, cloud file sharing, and health alerts. This way, you can maximize productivity and minimize downtime.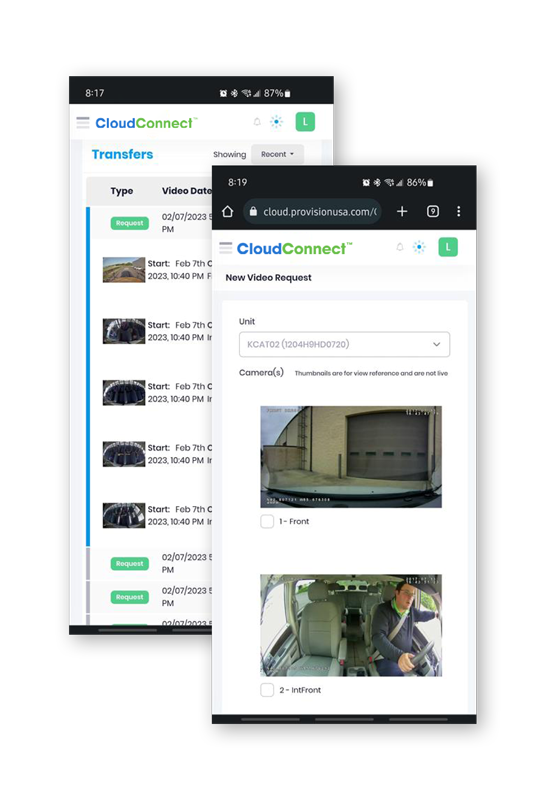 Deliver Peace of Mind with System Health Alerts
With CloudConnect, devices report operational issues to the software via a convenient dashboard, so you know of issues before they become problems. Device health reporting reduces the need for periodic system checks by maintenance staff and eliminates the worry about an incident happening that wasn't recorded.
Daily Device Health Summary: Shows device events that occurred in the past 24 hours. This can be sent to multiple preset email addresses. Daily sending time of email is configurable and only sent if new health events occur.
Daily Transfer Summary: Shows files transferred from each vehicle in the past 24 hours. This can be sent to multiple preset email addresses. Daily sending time of email is configurable and only sent if new transfers occur.
Request confirmation emails to notify users that video requests have been completed.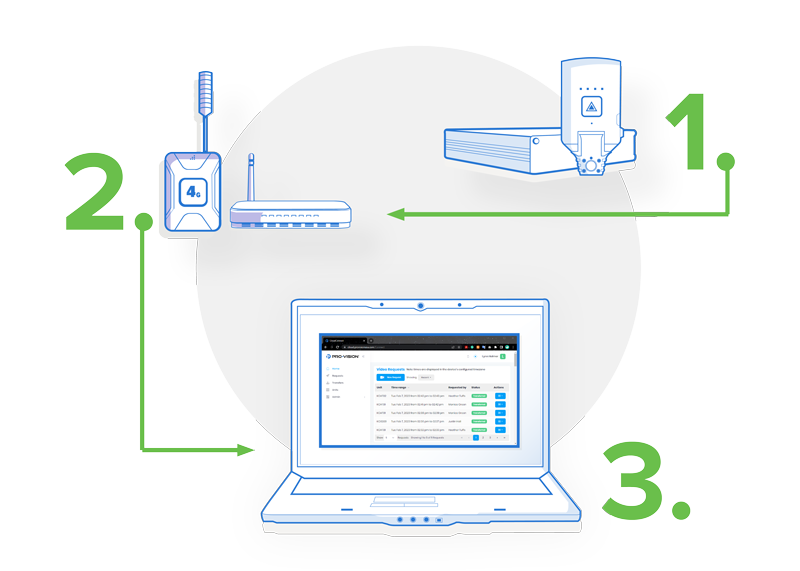 How it Works – Wi-Fi or 4G Video Upload
With CloudConnect, event videos automatically upload to the cloud through a 4G or Wi-Fi connection – even across multiple locations or work sites. Vehicles connect via 4G or when they return to the yard or garage at the end of a shift and come within range of your network's wireless access points.
Events can be automatically triggered by an event button, GPS (speeding), hard braking or cornering (G-force sensor), or custom-wired triggers like PTOs or lightbars. These events take the time immediately before and after the event is activated and store them separately on the device until they are uploaded or transferred.
Sometimes referred to as Constant or Background Video, this footage is captured from vehicle ignition until turnoff (or even up to 24 hours after), and it is stored on the DVR storage device (SD Card or SSD). Since non-event video isn't automatically uploaded or transferred, you can request this footage through CloudConnect.
Customizable User Management
With CloudConnect, multiple users can be granted access to the system so that they can share video files both internally and externally as needed. This saves time and reduces complexity when implementing controls to limit access to video files.
With a 4G Connection, you can access any of your connected camera images in real time, which enables you to analyze the situation and respond quickly and effectively to avoid potential hazards and mitigate risk.
| | Manual Transfer | | |
| --- | --- | --- | --- |
| Removable Device Storage | X | X | X |
| Automatic File Transfer | | X | X |
| System Health Alerts | | X | X |
| E-mail Notifications | | X | X |
| Live Camera Views* | | X | X |
| Custom User Permissions | | | X |
| Audit Logs | | | X |
| Cloud Video Sharing | | | X |
| Web-Based Platform | | | X |
*Requires 4G Data Connection
Contact sales to learn more or schedule a demo.