Safely Journey to and from Your Destination
Pro-Vision has a mobile video solution for your public transit, from driver and passenger safety to monitoring activity around the vehicle.
Record what is happening in and around the bus and make the ride safer with mobile video solutions from Pro-Vision. Interior cameras and exterior side and rear cameras keep your driver informed and can help reduce accidents while protecting your drivers – and your company – from false claims. You can count on the combination of solid-state DVR recording and automatic uploading to the cloud to have the video evidence you need to protect your drivers and your company.
Keep Your Passengers Safe
Simply the mere presence of a mobile video camera could deter passenger vandalism, driver harassment, or other unruly behavior. Likewise, the presence of cameras helps keep your drivers on their best behavior. Pro-Vision mobile video solutions are a reliable, cost-effective way to monitor in-vehicle activity and ensure the safety of your drivers and their passengers.
Pro-Vision video systems help reduce the chance of accidents with their superior quality and reliability. Our extensive lineup of interior and exterior cameras includes an optional HD backup camera. This provides a monitor view while simultaneously recording video to the DVR – all through one integrated system, to increase safety around the bus.
From our state-of-the-art video monitoring systems to real-time data monitoring and sophisticated cloud storage, Pro-Vision helps you increase the safety of your drivers and passengers while improving your operations' efficiency.
Our cameras can show you the whole story. Pro-Vision video systems video management software helps you view an incident from multiple angles, even in low-light situations. No detail will be missed, from the driver's seat to the back seats and everywhere around the bus. That means you can exonerate your drivers and keep your fleet safe while protecting your company.
Enhance Your Training Program & Improve Driver Performance
Footage of real-world situations is an excellent tool for training new employees, as well as helping to improve driver performance and accountability. Video review also enables you to ensure that safety procedures and protocols are being followed. It helps you make any necessary adjustments to drivers' behavior keeping your operations running smoothly and safely.

CloudConnect is a cloud-based platform that provides users with the convenience of web-based access. Quickly and easily request, watch, and securely share videos from any device, anywhere you have Wi-Fi or 4G access.
Move faster. Collaborate easier. Be more productive. Manage across teams. All from one common web browser.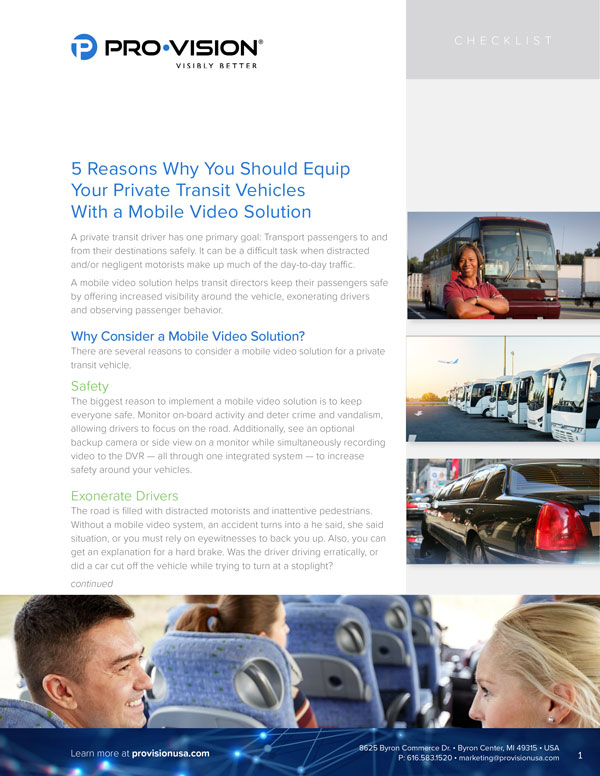 5 Reasons Why You Should Equip Your Private Transit Vehicles With a Mobile Video Solution
View Checklist