Best Practices for Camera Mounting on Roll-off Container Trucks in the Waste Industry
Roll-off container trucks are essential for transporting large volumes of waste efficiently and safely. Many companies are now turning to camera systems configured for these trucks to enhance safety and operational efficiency. These cameras help mitigate risks by offering better visibility around the vehicle and assisting operators during loading and unloading processes.
Identify the Blind Spots
Before you begin mounting cameras, it's crucial to understand where the significant blind spots are on a roll-off container truck. Typically, these include the back and sides of the vehicle. Strategically placing cameras can drastically improve driver visibility and reduce accidents.
Rear Camera Placement
The rear camera is located low center on the rear bumper since there is no ability to get the camera any higher on the body. Sometimes flush-mounted camera options or specialty protective camera brackets like the one pictured here can be used to provide an added layer of protection from a harsh commercial environment.
Side Camera Placement
Side cameras offer many benefits such as enabling safer lane changes by seeing the camera views when the turn signal is active and by refuting false claims of damage. Some possible locations include the front fender or a mirror-mount with both facing the rear.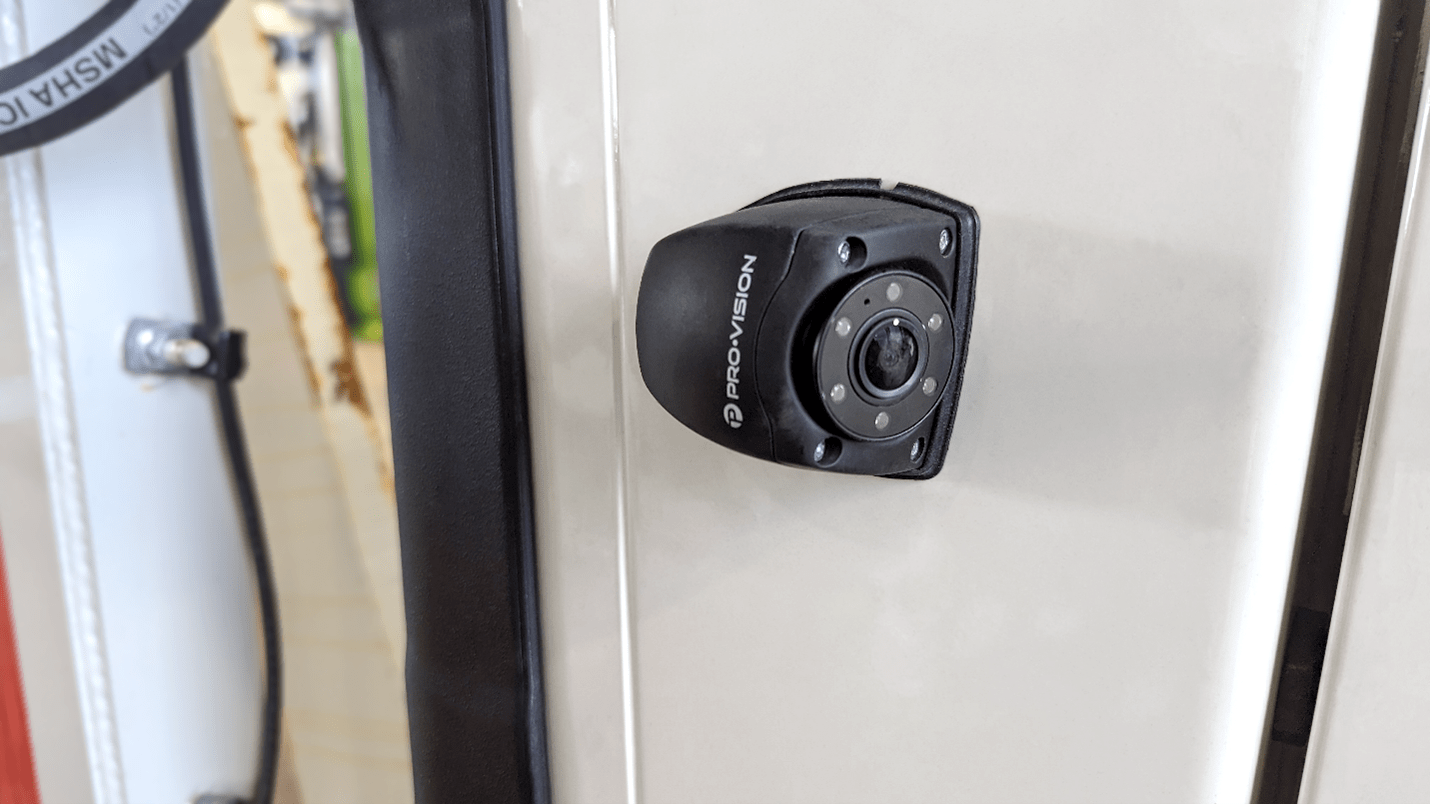 Cover the Road Ahead
Adding a forward-facing camera will capture all activity ahead of the vehicle. While the other views are critical to driver visibility and displayed on the in-cab LCD Monitor, the forward-facing view is only needed for recording in the event of unsafe driving maneuvers and accidents.
The footage can aid in training drivers and refuting false claims. If a third-party forward-facing camera is already in place, the side and rear cameras can integrate into the system so all recorded footage is accessible in one place. Generally, forward-facing cameras (commonly known as "dashcams"), are mounted high in the center of the windshield to minimize any visual impairment of the driver and attached via 3M VHB adhesive.
Final Camera Mounting Insights
Camera systems on roll-off container trucks are rapidly becoming a necessity. When mounted correctly, the right camera can drastically reduce operational risks, improve efficiency, and enhance overall safety. By adhering to these best practices and partnering with industry leaders, waste management companies can pave the way for safer and more productive operations.