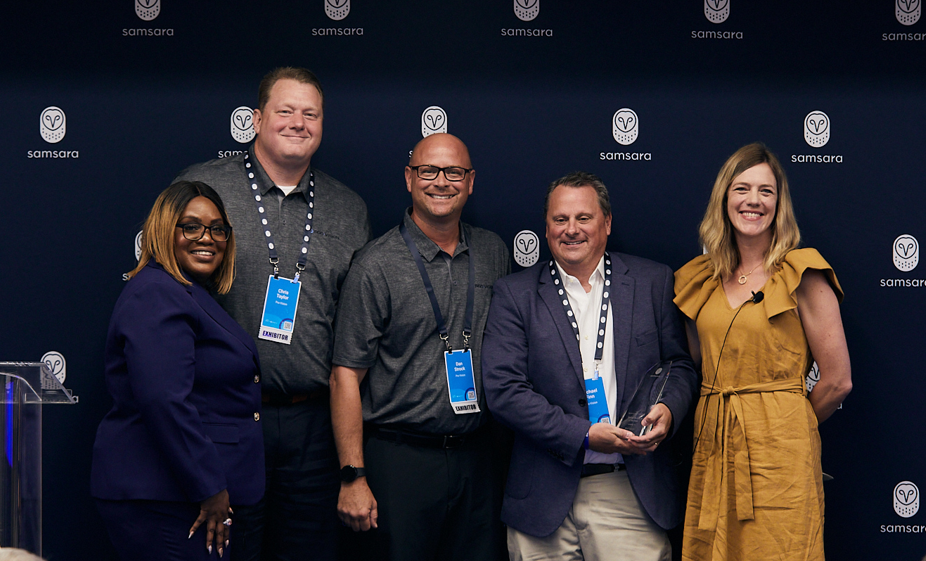 Pro-Vision Named Safety Partner of the Year by Leading IoT Company, Samsara
Pro-Vision, a leader in fleet video solutions, was recognized for excellence in integrated safety solutions at recent Samsara Partner Summit.
Byron Center, Mich. – Oct. 10, 2023, Pro-Vision, a leader in mobile video solutions, is proud to announce its recent distinction as the Samsara Safety Partner of the Year. Announced during the Partner Summit at Samsara Beyond in Austin, Texas, this award recognizes Pro-Vision's commitment to delivering superior fleet video solutions, reinforcing its position at the forefront of the industry.
This award, presented by Samsara, the pioneer of the Connected Operations Cloud, acknowledges partners who demonstrate exceptional innovation, customer-centric approaches, and dedication to enhancing fleet safety and efficiency. Pro-Vision has consistently exhibited these qualities, providing their clients with reliable, cost-effective mobile video solutions. They were also named a finalist for Samsara's Ecosystem Partner of the Year award.
Mike Finn, CEO of Pro-Vision, said, "It's an affirmation that our partnership with Samsara continues to bring significant value to our customers. We are honored to receive this award and look forward to forging ahead with our mission of advancing mobile video technology."
About Pro-Vision
Founded in 2003, Pro-Vision is a leading video technology solutions provider trusted by thousands of organizations in 58 countries. Pro-Vision solutions include vehicle video recording systems, body-worn cameras, data management, and cloud-based storage solutions. Pro-Vision transit, public safety, and commercial partners utilize these solutions to enhance safety, increase productivity, and protect critical assets. For more information, visit provisionusa.com.
About Samsara
Samsara (NYSE: IOT) is the pioneer of the Connected Operations™ Cloud, which is a platform that enables organizations that depend on physical operations to harness Internet of Things (IoT) data to develop actionable insights and improve their operations. With tens of thousands of customers across North America and Europe, Samsara is a proud technology partner to the people who keep our global economy running, including the world's leading organizations across construction, transportation and warehousing, field services, manufacturing, retail, logistics, and public sector. The company's mission is to increase the safety, efficiency, and sustainability of the operations that power the global economy.