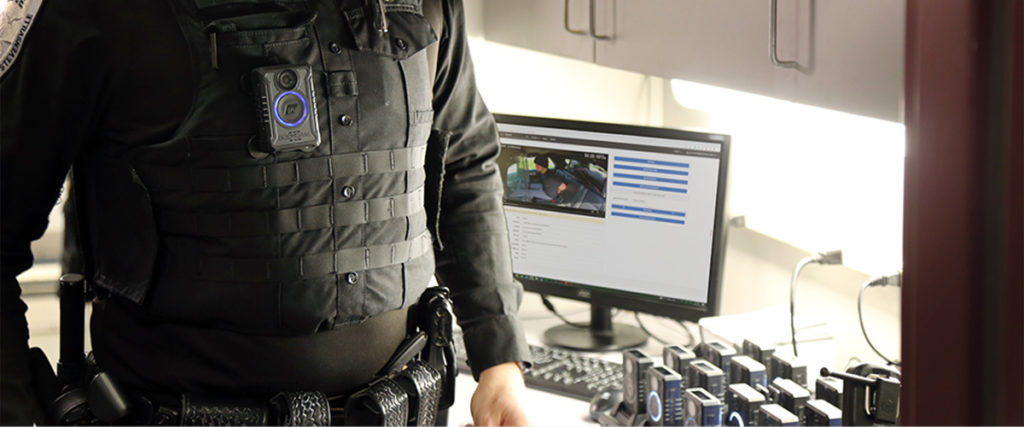 Creating a Comprehensive Body Camera Policy
According to TIME Magazine, nearly one-third of law enforcement agencies in the U.S. have some sort of body-worn camera program.
But a recent report from The Washington Post highlighted the struggle some departments are having in regard to paying the costs associated with implementing a body-worn camera program. The Post reported that some departments – especially smaller ones – have begun to either delay or outright drop their body-worn camera programs due to the costs associated with using them.
As technology advances and body-worn cameras have quickly become a standard tool in the law enforcement toolbox, it can be an overwhelming task to find a cost-effective way to implement a body-worn camera program.
There are several factors you should consider when deciding to implement body-worn camera technology. But here are some key things to consider that can help your department implement such a program without breaking the bank:
Mountains of Data
Among the costs associated with body-worn cameras, the cost of managing the thousands of hours of footage produced by these cameras is often the biggest expense – and one many departments are not ready for.
According to a report from Government Technology Magazine, when the Chula Vista (Calif.) Police Department learned that a 30-minute video recorded on its body-worn cameras would require 800 megabytes of storage space, the department calculated that if all 200 of its sworn officers were equipped with body-worn cameras, it could produce nearly 33 terabytes of data per year.
With that much data coming in, the most important aspect of planning your body-worn camera program is being aware of how much storage is needed and the method in which you'll store your data.
Some companies offer their own full-service evidence management software, while others provide a bare-bones solution that handles the most basic task of uploading video. Some evidence management software is built to work with your existing servers, but many now offer cloud-based solutions that give you the flexibility to pick the amount of space you need to store your data. This method can be much more cost-effective, as updates can be applied to keep the software current and eliminate the need to keep purchasing more and more expensive hardware as technology advances.
As you assess your current situation and look at what storage options are right for you, be sure to do your research on how much data you'll need both in the short-term and the long-term. You need to be prepared to store data for long amounts of time, depending on your local laws for how long certain pieces of evidence need to be retained.
For a good reference, the Urban Institute has an extensive Body-Worn Camera Legislation Tracker featuring a running list of all the video storage time laws currently in effect or going through the legislation across the country. This tracker is a great resource to help you compile an estimate of your current and future data storage needs.
With a self-audit of your current data storage needs, extensive research into the different storage options available and knowledge of your local laws, you can better prepare your department for success when it comes to finding a solution that both fits your needs while not bankrupting you.
Hidden Costs
As the body-worn camera boom took off in the mid-2010s, departments raced out to get body-worn cameras without thinking much further out than the initial purchase of the cameras. While the endless lists of features and promises of low costs to purchase are easy to get lost in, you need to really dig in and see if the low costs promised out of the gate will stay low after the initial purchase.
Some vendors will try to dazzle you with promises of "no-cost" trials, only to stick you with an expensive bill at the end of the trial – and tons of red tape to navigate if you're locked into a contract.
Think of it like signing up for cable TV. They get you in the door with the low introductory price but a few months later, the price jumps up $100 a month and you're stuck with bad service and hundreds of channels you don't watch.
Another feature that some vendors are touting is the ability to live stream video from their body-worn cameras straight from the field. But for anyone who has been hit with a data overage alert from streaming just a few hours of video on their phone, you know any sort of streaming is going to eat up your data.
The ability to stream video from the field sounds great in theory, but the costs associated with having to purchase cell phones and data plans for your officers in order to do that can inflate your body-worn camera budget even more.
Be sure to read all of the fine print and ask for straight answers for what you're signing up for. Ask what the advertised price for the camera includes as far as other features, accessories and services— and if there are any additional costs to use those.
Securing Funding
Police departments are often running on a shoestring budget. So trying to scrape together any funding for new equipment can be a daunting task./p>
But there are opportunities to secure funding to get your body-worn camera program up and rolling.
One of the most popular programs for assistance in purchasing body-worn cameras are the grants offered by the U.S. Department of Justice and Bureau of Justice Assistance (BJA) to implement such a program.
According to the DOJ, it is anticipating being able to provide more than $22 million in grant opportunities for fiscal year 2019, with the average award amount estimated to come in around $225,000.
These grant opportunities typically release early on each year – the 2019 grant solicitation open dates have yet to be released as of the writing of this post – and application submission dates are typically 30-60 days after the actual release date.
But to be awarded one of these grants, the DOJ places a heavy emphasis on rewarding them to departments that have already drafted strong policies and established a dedicated training program prior to implementing a body-worn camera program. So make sure that if you are applying for one of these grants, you have your ducks in a row when it comes to planning out such a program.
There are also opportunities for funding at the state level. According to the National Conference of Legislatures (NCSL), 13 states and the District of Columbia offer funding opportunities to help departments purchase body-worn cameras and get their program off the ground.
Whatever size body-worn camera program you're trying to implement, there are options out there for funding assistance. You just have to know where to look.
Justifying Costs
While there has been plenty of discussion recently about how much body-worn cameras cost, one study has produced some very interesting information regarding the cost-benefit analysis of using body-worn cameras.
The study was conducted by the UNLV Center for Crime and Justice Policy, the non-profit research organization CNA and Las Vegas Metropolitan Police Department (LVMPD) – and the results of the study showed that body-worn cameras can produce savings that can help the cameras pay for themselves.
Approximately 400 LVMPD officers were split into two groups: one group equipped with body-worn cameras and another without.
In the period of a year, the study found that average complaint against an officer not wearing a body-worn camera resulted in an average cost of $6,776 and 91 personnel hours. But for incidents where the officer was wearing a body-worn camera, that figure dropped to an average cost of $554 and 7.33 personnel hours.
The CNA estimated the department saved $4,006 in investigation costs per year for each body-worn camera in use, combined with the estimate that each body-worn camera cost $1,097 per user. According to the CNA, if the department outfitted all 1,400 of its patrol officers with body-worn cameras, the net annual savings produced by the use of body-worn cameras could reach $4.1 million to $4.4 million department-wide.
Whether your department is looking for 10 body-worn cameras or 1,000, this study helps to show that while it's easy to be overwhelmed by the initial costs, the long-term benefits of implementing such a program can far outweigh the initial sticker shock.
Conclusion
Looking for a cost-effective body-worn camera and evidence management solution for your department? Check out the Pro-Vision BC-300 body-worn camera and SecuraMax Evidence Management Solution to see how Pro-Vision can help you get your body-worn camera program off the ground.