Capture the whole story with complete video coverage in and around patrol vehicles with the Pro-Vision In-Car Camera System.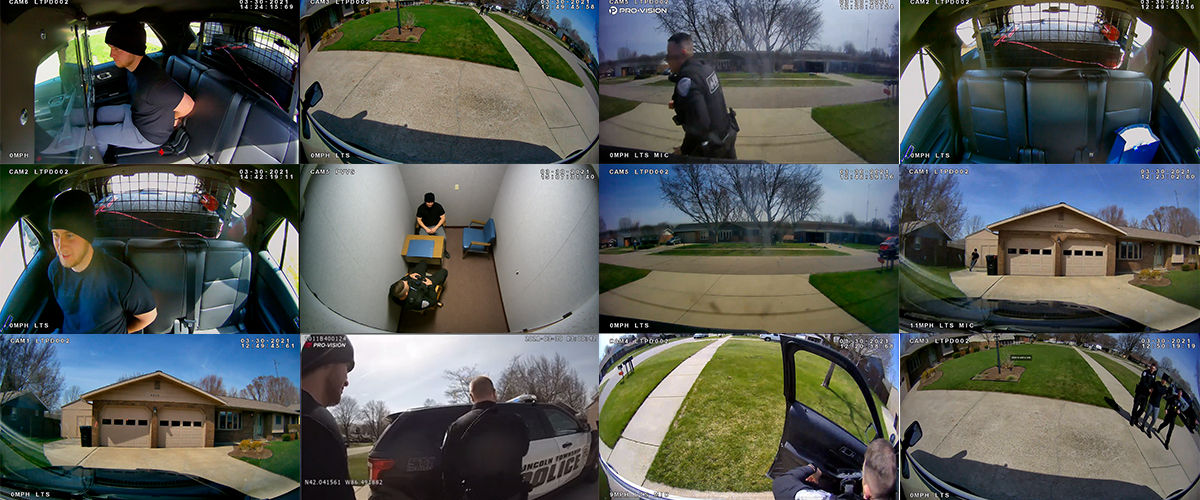 From door-to-door interior rear-seat coverage to 360° exterior coverage, Pro-Vision police in-car camera systems capture a 1080p HD picture of all activity in and around the vehicles.
A compact interior night vision camera and a built-in microphone provides door-to-door 175-degree 1080p HD coverage in any lighting condition.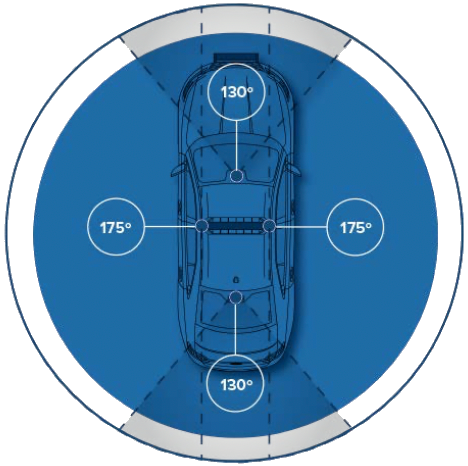 A compact forward-facing camera that allows you to capture the views you need without obstructing your view of the road.
The in-car system and body cameras within 30ft. can be triggered simultaneously to activate automatically when the vehicle lights or other triggers are activated.
Automated Officer Login
When officers sign into their mobile data computers, they are automatically logged into their car video system, eliminating the need to remember an extra login or RFID card to carry.
In-Field Tagging
SecuraMax™ lets you tag a piece of evidence immediately after events happen, not at your desk at the end of a shift. With timeline-based event tagging, in-car videos and body camera videos can be tagged simultaneously to save time.
Upload Direct to Cloud
If you already have internet service in your vehicles, Event Video can securely upload direct to the SecuraMax™ Cloud evidence management solution, bypassing the need to wirelessly transfer files to your local network.
MDC Integration
Simply log in to your mobile data computer to start the DVR and tie video to the right officer. Display camera views and adjust settings all from the same interface.
Automatic File Transfer
Using built in WI-FI, your files can upload automatically when your patrol cars pull into range of your wireless network, eliminating the need to manually remove a storage device to retrieve videos.
Clearer Low Light Capture
Capture all the important details no matter how dark your surroundings are with the Pro-Vision AHD Forward-Facing Camera with Wide Dynamic Range (above left). Unlike other windshield-mounted cameras without our low-light performance (above right), this camera completely captures the road ahead, ensuring a clear picture every time.
Digital Wireless Microphone System
The 2.4 GHZ wireless mic is built to auto-pair with the DVR, provide eight hours of talk time, and a 2,000 foot range for complete audio coverage with exterior and rear seat cameras that have built-in microphones.
Optional LCD Display
If you don't already have mobile data computers to display system status and see camera views in the vehicle, an optional LCD display can be mounted for added piece of mind of the recording status.
Lifetime Customer Support
Available at no additional cost, Pro-Vision takes pride in providing the highest level of quality customer service & technical support, all based at our US headquarters.
Enhanced Event Marker Button
This provides an additional method for triggering Event Alarm Video for a specific incident to be recorded when you don't want to activate the lightbar. Also, a built-in status light will indicate the system is functioning properly for added peace of mind.
Integrated GPS Mapping
By simply connecting a Pro-Vision GPS Antenna, you will know your vehicle's location and speed. Use the included Pro-Vision Viewing Software and your video will also display with an integrated GPS Map.
Evidence Management with SecuraMax™
SecuraMax™ was designed by Pro-Vision to answer video evidence management challenges with an automated, CJIS-compliant solution that simplifies the data management process and saves time.
Professional Installation
Pro-Vision systems are simple by design, but few companies have the time and resources to install the equipment themselves. Pro-Vision is the only mobile video system manufacturer to offer factory installers to complete your on-site installation.
Contact sales to learn more or schedule a demo.